Michigan Lottery Amphitheatre at Freedom Hill | Sterling Heights, Michigan
Unleash your love for metal music and prepare for the headbanger onslaught like never before! BABYKLOK Tour unites the deadly cuteness of Babymetal and the cult-like force of Dethklok. Witness this legendary co-headliners on May 17, 2023 at the famous Freedom Hill Amphitheater. Last year, Babymetal made a triumphant return from their hiatus, giving birth to their no-filler THE OTHER ONE restoration project and the Metalverse virtual realm. Dethklok's appearance in the tour is also part of its act to storm back onto the scene along with more project announcements on their film and new album. The Freedom Hill Amphitheater sets the stage for this outrageously genius band combo. With state-of-the-art technology, its acoustics, lights, and visuals will provide all audiences an unforgettable concert experience. Don't miss your chance for this first ever tour collaboration of the two legendary metal bands. Secure your tickets and get ready for an epic experience!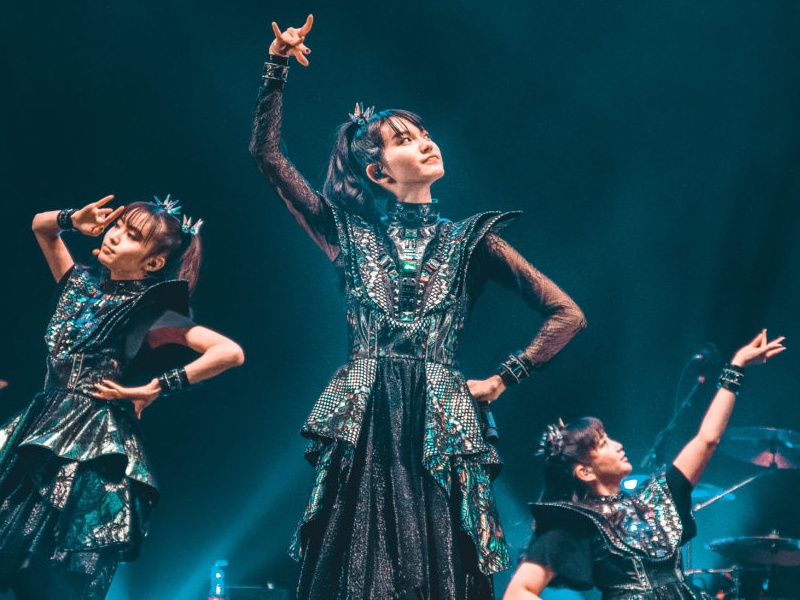 Babymetal has transformed the heavy metal music landscape with their unique concept of J-pop and heavy metal fusion. This all-female Japanese band effortlessly infects you with their charismatic energy, powerful vocals, and captivating dance routines. Their work is highly acclaimed not just in Japan but also with international music critics. They were described as "a magical, leather-clad, fire-breathing, sonic unicorn" by Daily Dot and it's not surprising.
While Babymetal has unreal cuteness, Dethklok is indeed literally "unreal". Dethklok is Brendon Small's brainchild, a virtual death metal band which quickly became a cult hit followed by a tour in 2007. They're widely known for their satirical and parodic lyrical themes. The unique blend of humor and hard-hitting metal music is nothing short of amazing. Proof of that is their two real-life collections of tunes from the show (The Dethalbum and Dethalbum II) reaching a new ground when they became the highest-charting death metal albums of all time which brought a whole new audience to the genre.
Babymetal and Dethklok take the norm, chew it, and spit it out. Their biggest similarity is innovation and keeping the audience craving for more. With their return from hiatus, they also dropped some exciting announcements. Babymetal reveals THE OTHER ONE restoration project that features the virtual world called METALVERSE. With 10 songs with their own separate themes and parallel worlds, Babymetal is blessing us with a mature and arguably even better kawaii metal voice.
Meanwhile Dethklok is also announcing the long-awaited return of Adult Swim's favorite heavy metal adventure, Metalocalypse. The full-length original film isn't the only surprise as a companion soundtrack and Dethalbum IV will also be arriving this 2023.
This duo concert was undeniably unexpected for the fans which just brings another layer of excitement in the tour. The concert venue, Michigan Lottery Amphitheater will give justice to these two legendary bands. Located in Freedom Hill park, it's a 120 acre outdoor grounds that has hosted numerous long standing greats in music. The concert experience is guaranteed with the venue's latest technology that offers the highest quality of sound, lighting, and visuals. The seating arrangement is in a semi-circle so you won't miss a single moment!
Not enough for you? The concert is also offering VIP packages for each of the bands that includes premium reserved or general admission tickets, priority entry, and more! Babymetal's VIP Package also offers VIP Only Merch, commemorative VIP laminate and lanyard. Dethklok's VIP Package also offers VIP only Merch and Commemorative VIP Laminate and Lanyard. If you get the soundcheck package, you will be part of the exclusive Meet and Greet with Brendon Small and Gene Hoglan of Dethklok and have exclusive access to Dethklok's Soundcheck.
Don't lose the chance to immerse yourself with the melodic metal madness and buy your tickets now!