Michigan Lottery Amphitheatre at Freedom Hill | Sterling Heights, Michigan
As the Brothers Osborne announced that "We're Not For Everyone", almost every country music fan within and some even beyond the concert vicinity, went on a mad dash for tickets for their upcoming stint at the Freedom Hill Amphitheatre on Saturday 4th September 2021. The "We're Not For Everyone" Tour title comes from the lyrics of one of their singles from "Skeletons", the Brothers Osborne's third and latest studio album. The Brothers Osborne are humble enough to admit, and at the same time, give a "proud declaration of uniqueness", as stated in their website, of how they've pushed and broken boundaries in country music — describing their sound as outlaw country and Southern rock. Nevertheless, fans love 'em to bits! And if you do too, mark your calendar, save the date click on the 'buy tickets' link on this site. Lock in those tickets now!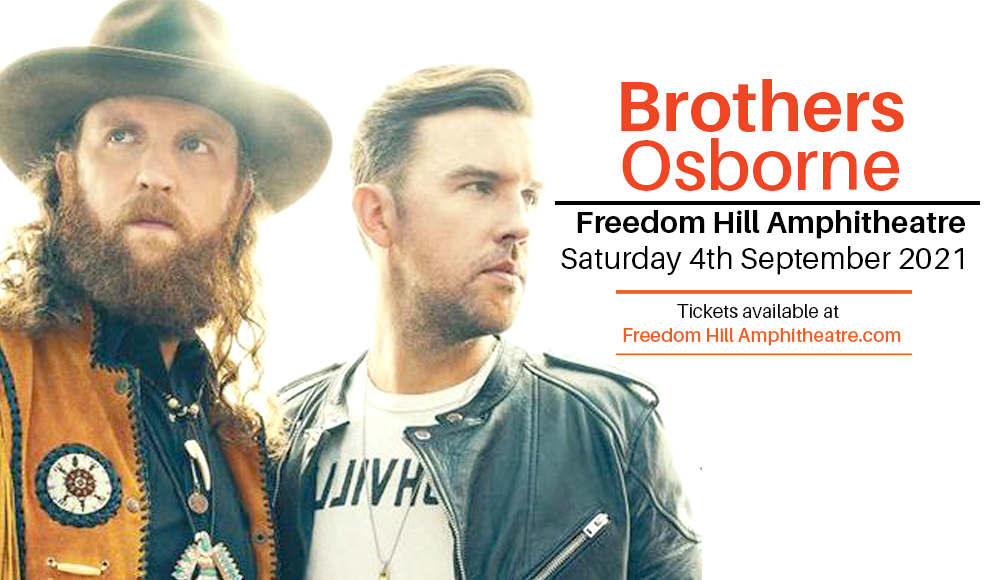 Music has always been a family business for brothers T.J. Osborne (lead vocals, rhythm guitar) and John Osborne (lead guitar, background vocals), collectively known as the Brothers Osborne. "Naturally, John and I wanted to participate and play with the family because it was fun. And that was where we cut our teeth," reveals T.J. Osborne. Initially, they performed with their father as they helped him in his day job as a plumber. They also tried their to pursue separate – solo music careers, but when they got together again as a duo, the wheels of their music careers started turning, starting with getting signed with publishing contract with Warner-Chappell, and a record deal as well with EMI Nashville. From there, the sibling duo has been driving along the road of success. In 2014, their single "Rum," which received critical acclaim; followed by "Stay a Little Longer," which became a top five hit, which culminated to the release of their debut studio album titled 'Pawn Shop' in 2015.
The Brothers Osborne have pushed country and rock music boundaries towards their own direction. "We're not afraid to take risks and just be ourselves," says John. Spin writer Andrew Unterberger confirms this by saying, "John's guitar slides a Hattori Hanzō sharpness, while TJ's vocals are wisely kept from going too thick with warbling vibrato, allowing them an understated vulnerability badly lacking in Nashville these days." Country Standard Time music critic Jeffrey B. Remz also noted the "sonorous, ultra-deep voice" favorably to Trace Adkins and noting the variety of guitar styles played by John as "sometimes steely, sometimes twangy, sometimes rocking".
"We're Not For Everyone" Tour by Brothers Osborne is definitely work-checking out. Experience genre-defining and defying country music. Yes, click on that 'buy tickets' link you see up there and book your seats now!