Michigan Lottery Amphitheatre at Freedom Hill | Sterling Heights, Michigan
Alternative and progressive rock fans listen up!! Prog rock legends Coheed and Cambria are embarking upon a massive North American tour with alternative rockers Taking Back Sunday! They're on their way to the Freedom Hill Amphitheatre on Friday 27th July 2018 – don't miss it! Get your tickets TODAY!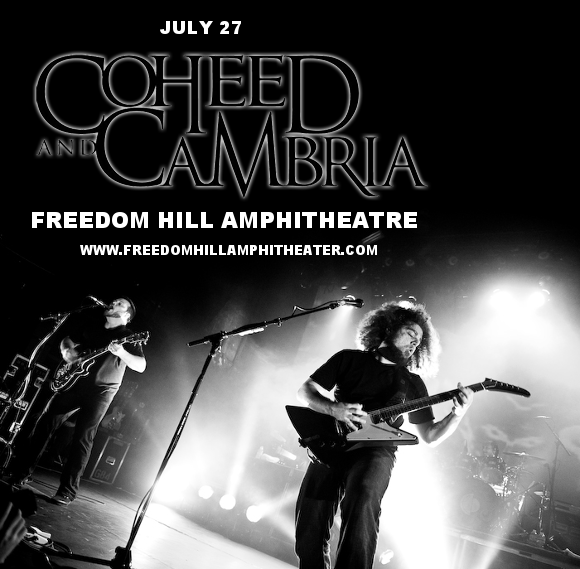 Formed in 1999 by guitarist Eddie Reyes and consisting of band members Adam Lazzara, John Nolan, Shaun Cooper, and Mark O'Connell, Taking Back Sunday firmly established themselves in the emo music sphere with their debut album "Tell All Your Friends". Taking Back Sunday are now touring with their latest album, "Tidal Wave," released in 2016. Referred to by AllMusic as the band's "most mature and diverse — yet seamless — set of songs to date," the album stays true to the band's emo roots, yet takes the band in very new directions musically.
Coheed And Cambria, formed in 1995 by Claudio Sanchez with Travis Stever, Josh Eppard and Zach Cooper, developed a reputation for their unique concept album structure, which the themes and stories of the songs centered around Sanchez's "The Amory Wars" science fiction comic book series. The band are on tour with their most recent release, "The Color Before The Sun," but fans can expect the upcoming tour to include a spread of songs from throughout the band's extensive discography.
Get ready to experience it all live – have you got your tickets for Coheed and Cambria with Taking Back Sunday on Friday 27th July yet??