Michigan Lottery Amphitheatre at Freedom Hill | Sterling Heights, Michigan
Get ready for the F.U.N.K., as veteran funkster George Clinton celebrates his birthday AND retirement at the 2018 Kiss Block Party! Not only will George and his P-Funk All-Stars be rockin' the block, but there's more: Dazz Band, Mary Jane Girls, Rose Royce, Con-Funk-Shun are also performing, making for one sizzling hot line-up!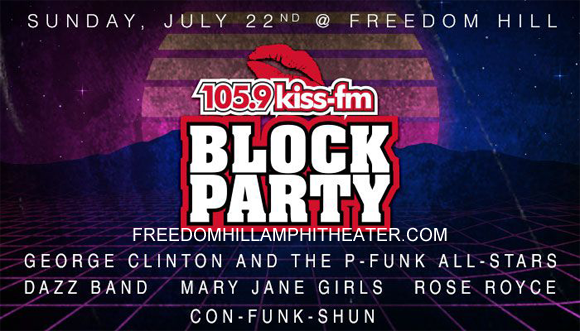 American singer, songwriter, and music producer George Clinton is best known as creator and bandleader of Parliament and Funkadelic, or P-Funk, during the 1970s and early 1980s. After singing in a doo-wop group called The Parliaments as a teenager in the 1960s, who had a hit with their 1967 single "(I Wanna) Testify", Clinton became a songwriter for Motown. While in The Parliaments, Clinton gathered his tour-mates and created the ensemble Funkadelic, who later also became Parliament – a sister band comprised of the same members, but with a different funk sound. Throughout the 1970s, Clinton and Parliament-Funkadelic charted over 40 R&B hit singles (including three number ones) and had three platinum albums. During the 1980s, Clinton branched out as a solo artist, as well as producing albums for artists such as Bootsy Collins and Red Hot Chili Peppers. Today, Clinton tours with The P-Funk Allstars – a band containing many of the original P-Funk members. Clinton is set to retire from touring in 2018.