Michigan Lottery Amphitheatre at Freedom Hill | Sterling Heights, Michigan
Love, Hope, and Rock Music for the soul, NEEDTOBREATHE rises and fills the air as they hit the stage at Freedom Hill Amphitheatre on Friday, 1st October 2021. The band just released their latest single, "I Wanna Remember" featuring Carrie Underwood, from their latest record, "Into The Mystery". Let your heart resound to the beat of NEEDTOBREATHE's soulful rock anthems, on a night worth remembering. Book your tickets now!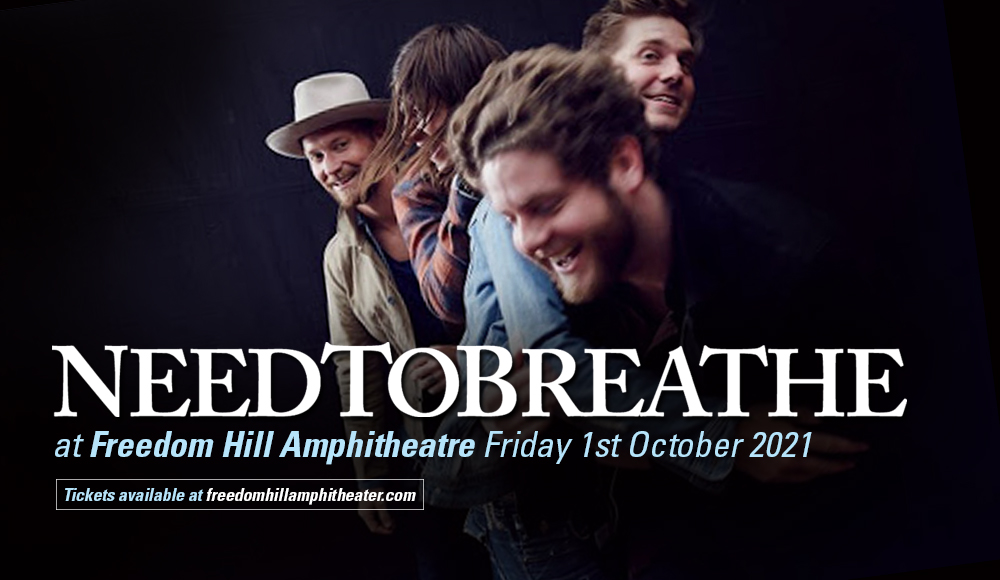 Having made waves in Christian-rock music, the band expressed that their music is for everyone, off with the labels. They stay true to their faith, and in tune with rock music made for everyone.
The band consists of Bear Rinehart on lead vocals and piano, Seth Bolt as backing vocals and on bass, and Josh Lovelace on keys and backing vocals. They released their first single "You Are Here" in 2006, followed by "The Heat" in 2007 that ignited positive light and brought the band to a wider range of listeners. In 2009, "Signature of Divine (Yahweh)" and "Washed by the Water" won Dove Awards namely, Rock/Contemporary Recorded Song of the Year and Rock/Contemporary Song of the Year. They also won Rock/Contemporary Album of the Year, establishing their well-known presence in the Christian Rock music scene.
Their 2009 studio release, "The Outsider", peaked at #2 on the Hot Christian Albums Chart and #20 on the Billboard 200. Their next releases, "The Reckoning", "Rivers in the Wasteland", and "Hard Love", made even bigger waves and peaked as high as #2 on the Billboard 200 charts. Their latest studio albums are "Out of Body" and "Into the Mystery".
NEEDTOBREATHE carries on to fill your soul with captivating rock music, so book your tickets now for a night worth remembering.