Michigan Lottery Amphitheatre at Freedom Hill | Sterling Heights, Michigan
NF – Nate Feuerstein comes to Freedom Hill Amphitheatre on Saturday 14th September 2019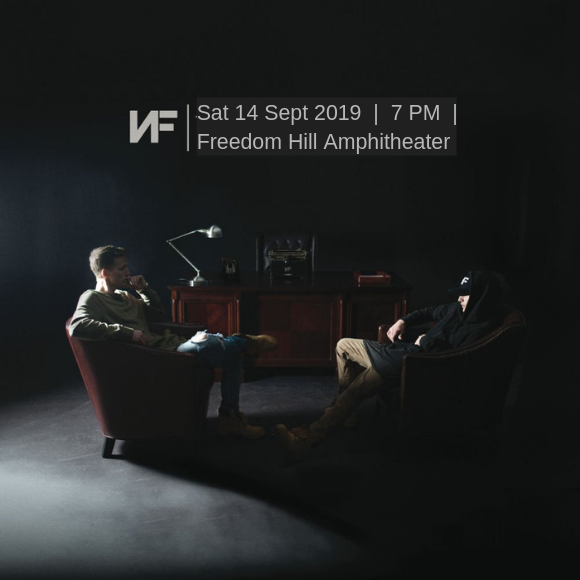 Nathan John Feuerstein is known professionally as NF (stylized as ИF), is an American rapper, singer and songwriter. He is also Eminem's younger stepbrother.
NF records and performs as a Hip-Hop/Alternative artist. On his albums, NF tells his story with lyrical vulnerability complimented by raw energy. His music draws from many real-life struggles, including being abused as a kid, struggling with anger issues, and losing his mother to a drug overdose.
Although he found his musical upbringing in Christian hip-hop, NF has initially denied his label as a Christian rapper. In one of his interviews, NF clarified "I'm a Christian, but I don't make Christian music. You're not going to reach everyone with just one point of view. I write about things I'm actually dealing with. You don't have to be Christian to relate to them."
However, in 2013, Feuerstein appeared on Christian hip-hop artist Flame's album Royal Flush on the track "Start Over". In 2015, his feature on TobyMac's This Is Not a Test track "Til the Day I Die" gained him fame and recognition in the Christian hip-hop genre. Feuerstein's 2017 collaboration with Futuristic, "Epiphany", enhanced his career in the secular rap industry.
He released an EP in 2014 with Capitol CMG, NF, which was his breakthrough release on the Billboard charts. He has released three studio albums: Mansion in 2015, Therapy Session in 2016 and Perception in 2017, which debuted at No. 1 on the Billboard 200 chart. Perception's third single, "Let You Down", brought him worldwide fame; it charted internationally and was certified triple platinum in the United States. NF's fourth studio album, The Search, was released on July 26, 2019.
Catch Nate Feuerstein perform LIVE on 14th September 2019 (Sat) 7 pm at Michigan Lottery Amphitheater at Freedom Hill.