Michigan Lottery Amphitheatre at Freedom Hill | Sterling Heights, Michigan
Funk icon and pioneer George Clinton embarks on his farewell tour this year,gathering One Nation Under A Groove at Freedom Hill Amphitheatre on Thursday 20th June 2019! The legendary performer will be joined for this incredibly special show by Parliament Funkadelic, Fishbone, Dumpstaphunk & Miss Velvet!
"We had been kicking this idea around for a long time" recalls Nick Szatmari, Clinton's agent in a press release. "It just felt organic and authentic, especially with the current social climate and the powers that be trying to divide everyone; it has always been a call for unity and togetherness through music. When George announced his retirement it just all clicked. It's surreal how it all came together, and we are very fortunate to have the support of Galactic, Dumpstaphunk, Fishbone, and Miss Velvet & The Blue Wolf on this historic tour."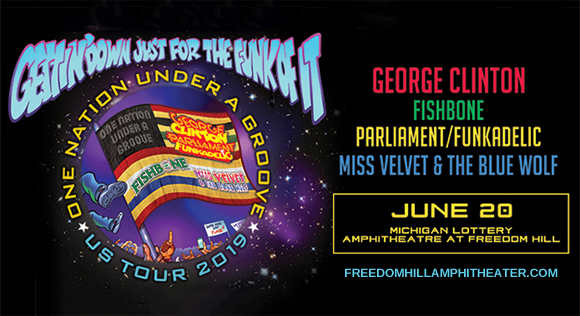 Best known as the mind behind Parliament and Funkadelic, or P-Funk, during the 1970s and early 1980s, George Clinton is an American singer, songwriter, and music producer. During the 1960s, Clinton started his career singing in a doo-wop group called The Parliaments, who had a 1967 hit with "(I Wanna) Testify". After the single was a success, Clinton went on tour with his fellow The Parliament singers and a backing band that featured Billy Bass Nelson on bass, Eddie Hazel, Tawl Ross on guitar, Tiki Fulwood on drums, and Mickey Atkins on organ. The group continued to perform together and were signed to Westbound Records under the name Funkadelic. Later, Clinton formed a sister band of the same members, with a heavier funk influence, known as Parliament. Clinton and Parliament-Funkadelic charted over 40 R&B hit singles (including three number ones) throughout the 1970s and had three platinum albums. During the 1980s, Clinton embarked upon a solo career, and also produced several albums for a variety of prominent artists, including Bootsy Collins and Red Hot Chili Peppers. Today, Clinton tours with The P-Funk Allstars – a band containing many of the original P-Funk members.