Michigan Lottery Amphitheatre at Freedom Hill | Sterling Heights, Michigan
Pat Benatar and her musical partner and life partner Neil Giraldo are coming to Freedom Hill Amphitheatre on Thursday 17th August 2023 to hit you with their best shot! These classic rock legends are known for catchy and memorable singles like Hit Me With Your Best Shot and Love Is A Battlefield, songs that seem to transcend time as they continue to be played on the radio decades after their release. Pat and Neil are known for their engaging stage presence and emotionally resonant live shows that leave an indelible mark on the memories of their audiences. Don't miss the chance to see this legendary pair of singer songwriters at Freedom Hill Amphitheatre on Thursday 17th August 2023. You'll be struck by Pat's incredible voice and spellbound by Neil's amazing guitar skills. Buy your tickets now before they're all gone and you're the only one missing out on an epic night of singing your favorite songs!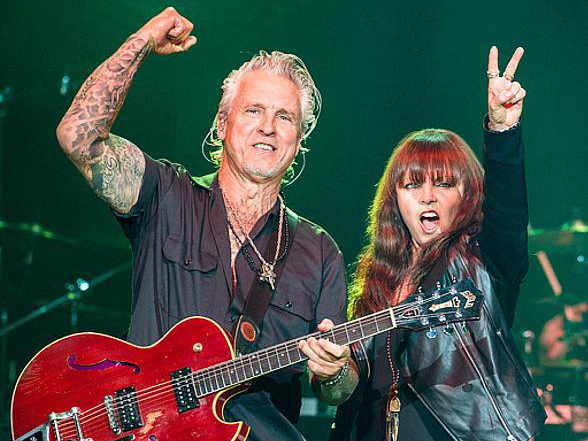 Pat Benatar and Neil Giraldo essentialy defined the musical sound of the 80s, and now they're coming to the Freedom Hill Amphitheatre on Thursday 17th August 2023! This is a chance for fans to witness an icon and her brilliant guitarist husband take the stage together for a night of their favorite hits!
Pat Benatar debuted on the music scene in 1979 with her first album, In the Heat of the Night. Her incredible vocals and rock anthems like Heartbreaker and Hit Me with Your Best Shot quickly made her a sensation. In the past few decades she has produced an impressive catalog of hits, including Love Is a Battlefield, We Belong, and Invincible, earning her a deserved place in the league of rock legends.
Neil Giraldo is an accomplished guitarist, producer, and songwriter. He's been at Pat Benatar's side throughout her incredible career. The two have been not only life partners but also creative collaborators since they first met in 1979. Giraldo's guitar work and songwriting talent have been instrumental in shaping Benatar's signature sound, as well as contributing to the success of other artists like Rick Springfield and Kenny Loggins.
Their remarkable chemistry, both on and off the stage, has been the driving force behind their enduring success. Together, they've sold over 30 million albums, charted 19 Top 40 singles, and solidified their status as one of the most successful and enduring partnerships in rock history.
When Pat Benatar & Neil Giraldo take the stage at Freedom Hill Amphitheatre on Thursday 17th August 2023, fans can expect a night of electrifying performances, showcasing their unparalleled musicianship and powerful stage presence. As they revisit their incredible catalog of hits, the audience will be transported back to the height of their career, reliving the moments that made them fall in love with this iconic duo. This is a rare opportunity to witness the passion and talent of two of the most influential figures in rock music as they continue to captivate audiences with their timeless sound. Buy your tickets now to be part of a night to remember!