Michigan Lottery Amphitheatre at Freedom Hill | Sterling Heights, Michigan
Listen up, metalheads!! The Freedom Hill Amphitheatre is proud to present the heavyweights Primus and Mastodon as part of their MASSIVE North American tour!! It's all happening on Saturday 9th June 2018 – be there!! Get your tickets NOW while they last!!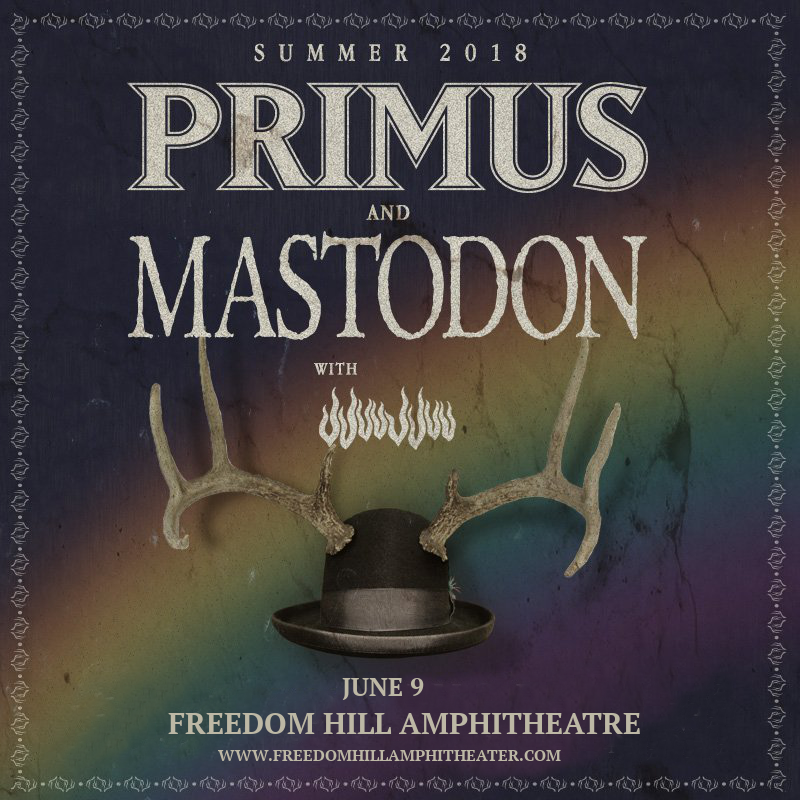 Mastodon are touring with their latest full-length album, "Emperor Of Sand," nominated for the Best Rock Album Grammy award and winning the award for Best Metal Performance with the track "Sultan's Curse," marking the band's first Grammy Award win! Last year also saw them put out the 4-track EP "Cold Dark Place," an emotional work inspired by guitarist Brent Hind's breakup. According to him, the EP contains "dark, beautiful, spooky, funky, ethereal, melancholy music, which also sounds like the Bee Gees a little bit.
Primus also have new material to take with them on tour; their latest album, "The Desaturating Seven," inspired by the children's book "The Rainbow Goblins," by Ui De Rico, an Italian artist, with their first album with the definitive lineup – Les Claypool, Larry "Ler" LaLonde and Tim "Herb" Alexander – since 1995."It's a story about gluttonous individuals sucking the colors out of the world," says Les Claypool. "The overuse of resources by the greedy elite, and how the meek masses can overcome them in the end by unifying… It seemed pretty relevant these days."
Get ready to hear all the new material from these two massive acts live – get your tickets to see Mastodon and Primus TODAY!!