Michigan Lottery Amphitheatre at Freedom Hill | Sterling Heights, Michigan
The boys are back at it again for an incredible tour. Yup, that's right, Queens of the Stone Age are hitting the road for their "The End Is Nero" tour, which will be in support of a brand new album called "In Time New Roman," slated for release on June 16th. Fans are in for a treat as these rock legends will feature brand new music, all delivered in their smooth, high energy style. Tickets for the show are already selling out fast, but that shouldn't come as a surprise, as talent this hot doesn't wait around for anyone. Luckily, we've got your back; you can secure your spot right here and now, but you need to act quickly. Click the Get Tickets button located above, which will take you through a very simple and safe checkout process. So what are you waiting for? Get it done right this second!!!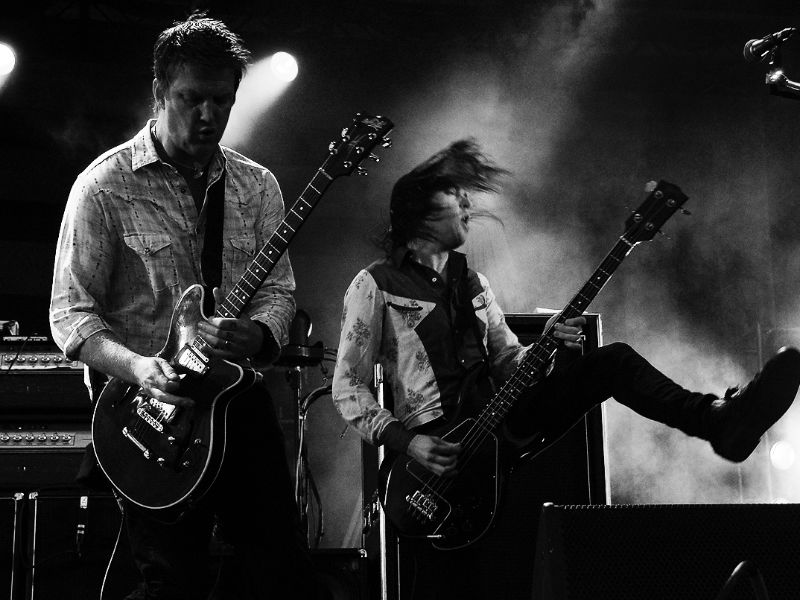 Since their creation in 1996 by Josh Homme, who is in charge of vocals and guitar, QOTSA has been entertaining fans for a very long time, and despite many different lineup changes over the years, their sound has remained a firm fan favorite in the genre. Their sound, beloved by fans, has often found itself being described as alternative rock, alternative metal, stoner rock, and sometimes nu metal, but whichever category they find themselves in, they rock out hard with each new project.
The band has released seven albums to date, and their latest will bring them to eight. Their self titled debut studio album gave the world a taste of what these phenominal artists could offer, and the reception was really good, with NME and Rolling Stone scoring it 8 out of 10 and 4 out of 5, respectively.
Their second album, Rated R, received even more attention than their first, despite the fact that it almost got pulled from the shelves of Walmart for promoting drug use. At this point, the band had become well established and started opening for the Foo Fighters, Hole, and The Smashing Pumpkins.
Their third album, "Songs for the Deaf," was another hit. It was released in 2002 and was later certified gold due to sales of over 900,000 copies. Later projects included 2005's Lullabies to Paralyze, 2007's Era Vulgaris, 2013's "…Like Clockwork," and 2017's "Villains."
All of this hard work has gained them several honors throughout the years, like three Grammy nominations, the Kerrang! Best International Newcomer Award in 2000, and the NME Award for Best Live Band in 2004.
With a brand new album, "In Times New Roman," at hand and a tour to help promote it, you know this trek is going to be super special. They are by far one of the best bands in the genre, and fans can be found traveling several hours just to catch one of their shows. That is the impact they have had on the industry, so you can expect tickets to fly off the shelves. Act now and grab yours right here and now before it is too late.