Michigan Lottery Amphitheatre at Freedom Hill | Sterling Heights, Michigan
Do you wish you could return to the old glory days of the '80s? If you do, you are in luck! Australian pop rock sensation Rick Springfield is bringing his highly-anticipated I Want My 80s Tour to North America! Kicking off this August, the summer outing will conquer over 20 cities across the U.S., including a coveted date in Sterling Heights, Michigan! On Sunday, 6th August 2023, fans can experience the ultimate throwback as headliner Springfield delivers his high-energy setlist packed with incredible hits and fan favorites, like "Jessie's Girl," "Don't Talk to Strangers," "I've Done Everything for You," "Love Somebody," and many more! The show at the Freedom Hill Amphitheatre will also feature performances from special guests, The Hooters, Paul Young, and Tommy Tutone! If you're keen on attending the ultimate throwback concert, you should hurry and score tickets to the I Want My 80s Tour this summer. We promise you won't regret it!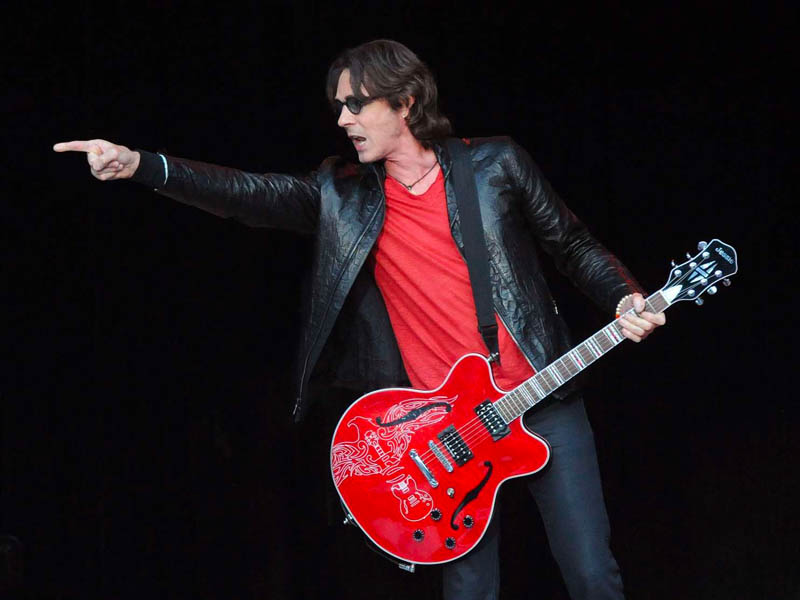 Rick Springfield recently announced his upcoming trek, I Want My 80s Tour. The Grammy Award-winning singer-songwriter expressed his excitement during a press release, announcing a jam-packed line-up that includes critically-acclaimed new wave band The Hooters, Brit Award-winning singer Paul Young, and power pop band Tommy Tutone. "What more could you ask for? Besides. You know, world peace, freedom from hunger, and healing the earth, of course!"
Springfield made waves during the '80s with incredible hits like "Jessie's Girl," "I've Done Everything for You," "Don't Talk to Strangers," "Affair of the Heart," "State of the Heart," and more. He actually rose to prominence in his home country of Australia and began belting out hits during the early '70s. His debut single, "Speak to the Sky," ranked number 6 on the Australian charts. The song is stemmed from his debut album, Beginnings, which made a breakthrough in the U.S. Billboard 200 at number 35. For the rest of the decade, Springfield found great success in Australia.
During the 80s, Springfield's popularity began rising in the United States. His 1981 album, Working Class Dog, peaked at number 7 on the Billboard 200 and sold over one million copies later. The album spawned the mega-hit "Jessie's Girl," which won him his first Grammy Award for Best Rock Vocal Performance, Male. Apart from the Grammy Award-winning track, the album spawned two more singles, "Love is Alright Tonite" and a cover of Sammy Hagar's "I've Done Everything for You." Springfield released six more efforts within the decade, including his highest charting effort, Success Hasn't Spoiled Me Yet.
In 2021, Springfield released a self-titled album with the supergroup, The Red Locusts. The band's line-up includes acclaimed musicians Matt and Greg Bissonette. The eponymous album comprises covers of The Beatles' songs and other popular power pop hits.
For his 2023 run, Springfield brings along The Hooters. The Pennsylvania-born sextet released several hits during their heydays, such as "All You Zombies," "And We Dance," "Day by Day," "Johnny B," and "500 Miles." In 1985, they released their most successful album, Nervous Night, which peaked at number 12 on the Billboard 200 and sold over two million copies in the U.S.
English singer-songwriter Paul Young also became a prolific figure during the '80s. His incredible hits, "Every Time You Go Away," "Come Back and Stay," and "Love of the Common People," made him a household staple in the British New Wave movement.
Lastly, the American power pop group Tommy Tutone dropped the unforgettable hit single "867-5309/Jenny," which reached number 4 on the Billboard Hot 100 in 1981. The band, founded by Tommy Heath and Jim Keller, has released six studio albums, including their latest effort, Beautiful Ending, which dropped in 2019.
Catch Rick Springfield, The Hooters, Paul Young, and Tommy Tutone this summer at the Freedom Hill Amphitheater by securing your tickets now!