Michigan Lottery Amphitheatre at Freedom Hill | Sterling Heights, Michigan
The rumors are true – Slayer have been confirmed to tour for the final time in 2018. The greatest heavy metal band of all time isn't about to go quietly though – get ready for a massive show featuring Lamb of God, Anthrax, Behemoth and Testament!! It's all happening at the Freedom Hill Amphitheatre on Sunday 27th May 2018. Don't miss your FINAL chance to see Slayer live – book your tickets NOW before they disappear!!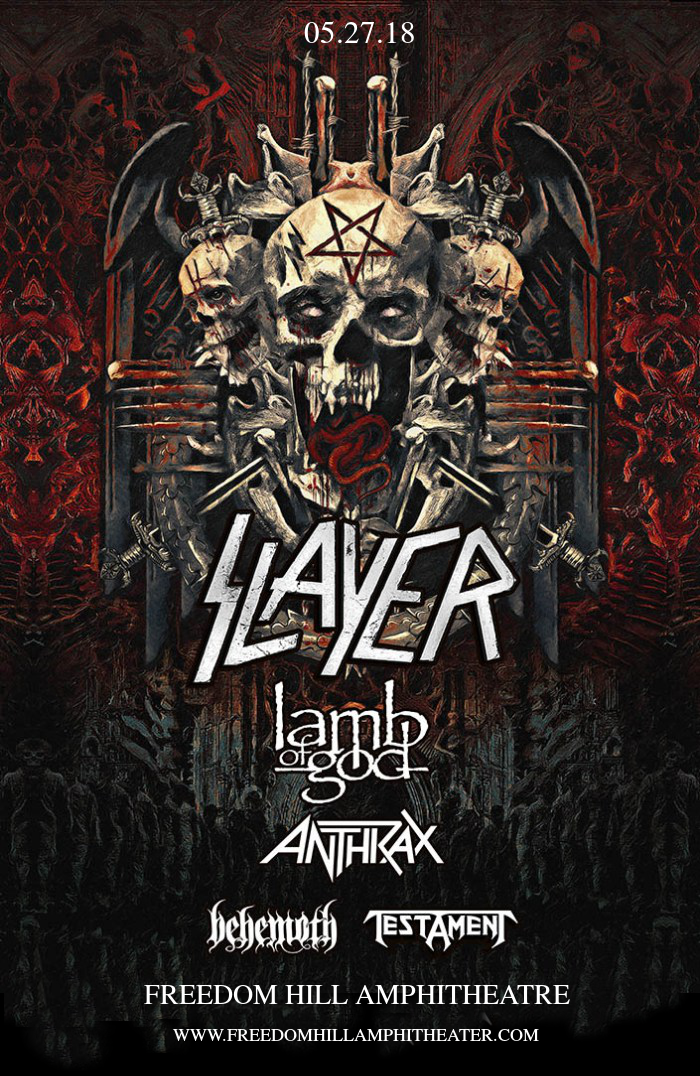 Few bands can claim an influence and legacy quite like that of legendary metal band Slayer. One of the "Big Four," bands that really shaped the sound of metal in its early days alongside Metallica, Anthrax and Megadeth, Slayer made their mark from their first album "Show No Mercy," with their aggressive playing style and highly taboo lyrical content, centered around themes of murder, Satanism, religion and antireligion. Despite the media panic over the band's content, they developed an enormous fanbase and steadily grew in popularity that has shown no sign of abating to the present day. Their album "Reign In Blood," is widely seen as one of the first thrash albums ever, with its distinct sound influencing countless artists since and helping to develop the metal subgenres of thrash metal and death metal.
Celebrate Slayer's legacy live with Slayer, Lamb Of God, Anthrax, Behemoth and Testament! Have you got your tickets yet?? Get them today, while you still have the chance!