Michigan Lottery Amphitheatre at Freedom Hill | Sterling Heights, Michigan
When they sang 'Fly Like An Eagle' back in the 60s, this band has never clipped their wings. They continue to soar high and loom over the psychedelic blues-rock scene to this day. The Steve Miller Band are at it again, taking flight with their ongoing concert tour dubbed as "An Amazing Evening of Original American Music –Classic Rock Meets Classic Country," together with Marty Stuart and His Fabulous Superlatives. Steve Miller Band & Marty Stuart have joined forces to embark on this 34-date tour, which includes a stop at the Freedom Hill Amphitheatre on Sunday 30th June 2019. The concert calls for fans from both sides of the fence — rock and country. Expect a double demand for tickets that may soon run out fast. Be quick and book your tickets now before they fly out of the window.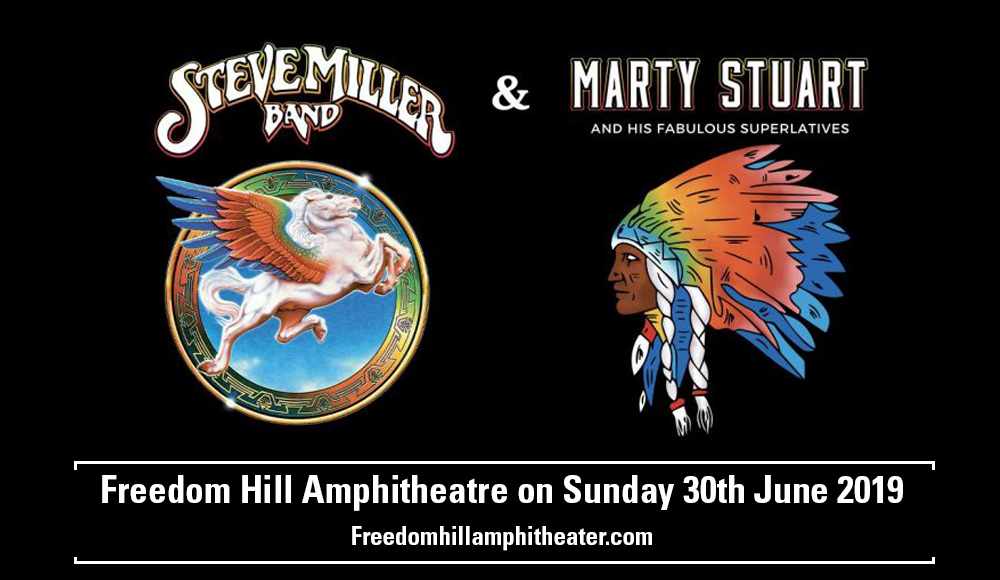 "An Amazing Evening of Original American Music –Classic Rock Meets Classic Country". Nothing could sound more apt for a tour title that's on point in saying that original American music is a drawn by a fine line between rock and country. And no other artist could best represent both sides of the camp but Steve Miller Band & Marty Stuart.
"I know it is going to be one of the best musical pairings we've ever done and an amazing evening of great American music," says Miller. "For those Steve Miller Band fans who don't know Marty Stuart And His Fabulous Superlatives…Marty Stuart, Kenny Vaughan, Harry Stinson & Chris Scruggs…together they are one of the best singing and playing bands EVER and not to be missed. Marty is one of the finest musicians in the world…an amazing singer, songwriter, and country music scholar and it's an honor to have him join us this summer for an unbelievable evening of original American music."
"Says Stuart, "Steve Miller is a treasure and a true world-class musical citizen. I so respect him as a singer, a songwriter, guitar slinger, historian, art connoisseur, bandleader, and friend. It's an honor for the Superlatives and I to run the roads of the nation and share the stage with the Steve Miller Band this summer. I predict some amazing musical moments out there on the horizon."
The Steve Miller Band have put their stamp as stalwarts of the blues-psychedelic rock movement. They've been around for over half a century covering 16 studio albums releases and 60 million albums sold worldwide. They've been cited and recognized by prestigious award-giving institutions, including a star on the Hollywood Walk of Fame and an induction into the Rock and Roll Hall of Fame. Steve Miller is hitmaker who has churned out chart-topping singles such as "The Joker", "Circle of Love" "Abracadabra", "Fly Like An Eagle" and "Take the Money and Run".
Marty Stuart's career is decorated with five GRAMMY wins, platinum record citations, a Lifetime Achievement Award from the Americana Music Association, and a Grand Ole Opry star. He has staunchly championed American roots music throughout his career.
Don't miss this one-of-a-kind meeting of the masters, a face-off of the music the defined the all American soundscape. Be part of this truly remarkable concert experience.