Michigan Lottery Amphitheatre at Freedom Hill | Sterling Heights, Michigan
Ladies and Gentlemen, Boys and Girls, are you ready to rock!? This Friday 27th September 2019 Stone Temple Pilots & Rival Sons comes to Freedom Hill Amphitheatre! In their first ever co-headlining USA Tour Stone Temple Pilots join up with Rival sons with support from Warbly Jets! So don't miss out on this rocking event!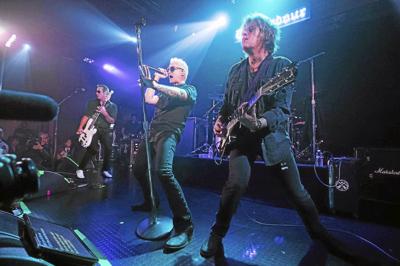 Stone Temple Pilots will co-headline with Rival Sons, these incredible bands embark on their first ever USA Tour together, supported by Warbly Jets. Playing at Michigan Lottery Amphitheatre as part of the Fifth Third Bank Concert Series on Friday, September 27 at 7pm. The show will include full sets from both bands giving you an unforgettable night of some classic rock!
"We are thrilled about this tour and grateful to share these upcoming shows with Rival Sons. A great band! They don't make them like this anymore. Looking forward to seeing all of you!" – Dean DeLeo of Stone Temple Pilots.
"We're delighted to share the stage with the DeLeo brothers and STP! Not to mention performing together in some really great venues, These guys wrote some of the soundtrack to my childhood…and it'll be killer to watch and listen to 'em hit these gems every night!" – Scott Holiday of Rival Sons.
Stone Temple Pilots are guitarist Dean DeLeo exploding with inimitable riffs, Robert DeLeo brings the propulsive rhythm section of bassist, drummer Eric Kretz, and the charismatic baritone of frontman Scott Weiland, Stone Temple Pilots ruled airways during their legendary career.
"They haven't lost their knack for hook-heavy hard rock that wedges its way into the subconscious." – All Music Guide.
Rival Sons are, front man Jay Buchanan, Scott Holiday on the guitar, Dave Beste with the awesome power of bass guitar and Mike Miley on drums.
"Rival Sons clearly brought their A game with (Feral)Roots, an obvious choice as a challenger for today's greatest rock and roll band. The primal intensity of Feral Roots reflects a certain unrest at the heart of the album, pushing beyond pure survival instinct with hope for something more exalted: to reclaim a long-diluted genre with a galvanizing return to form." – Glide Magazine, on their latest album Feral Roots.