Michigan Lottery Amphitheatre at Freedom Hill | Sterling Heights, Michigan
Ska-punk trio Sublime with Rome are coming to Freedom Hill Amphitheatre on Saturday 6th July 2019 in support of their upcoming third studio album, Blessings! The group will be performing hot new material from the album, plus other Sublime with Rome tunes and classic Sublime fan favorites! Get ready to skank like it's Cali in the '90s as the sunshine-lovin' threesome bring the party vibes to the stage!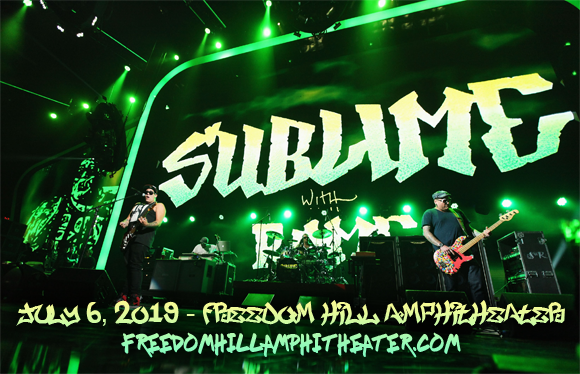 Sublime with Rome is an American ska punk band, formed in 2009 by former Sublime members Eric Wilson and Bud Gaugh with singer and guitarist Rome Ramirez to continue Sublime's legacy after the passing of Sublime frontman Bradley Nowell in 1996. The group's debut was at Cypress Hill's Smoke Out Festival in San Bernardino, California, and the following year they embarked on a nationwide tour. 2011 saw the band officially sign to Fueled By Ramen, releasing their debut album, Your Truly, later that year. At the KROQ Almost Acoustic Christmas show in December 2011, the band announced that it would be their last performance with drummer Bud Gaugh, who was replaced by The Vandals drummer Josh Freese, and later former Tribal Seeds drummer Carlos Verdugo. In 2015, the band released its second studio album, Sirens, and a third studio album, Blessings, will be released later this year.