Michigan Lottery Amphitheatre at Freedom Hill | Sterling Heights, Michigan
Celebrated rocker and guitar God Ted Nugent is embarking on his final tour this 2023! Six decades ago, the multi-platinum-selling singer-songwriter and guitarist known for his massive hit, "Cat Scratch Fever," launched his music career in Detroit and became one of the most respected rock guitarists in the world. This summer, Nugent plots the final tour of his career, Adios Mofo '23, including a coveted pit stop at the Freedom Hill Amphitheatre in Detroit, Michigan! On Friday, 11th August 2023, fans can anticipate the rock and roll legend to cover his phenomenal hits spanning five decades! The rocker who pursued his solo career in the '60s will end an era with a bang! This last hurrah will feature several radio rock staples, such as "Stranglehold," "Free-for-All," and "Stormtroopin'." If you want to see Nugent on his final tour, you better secure your tickets now before it's too late!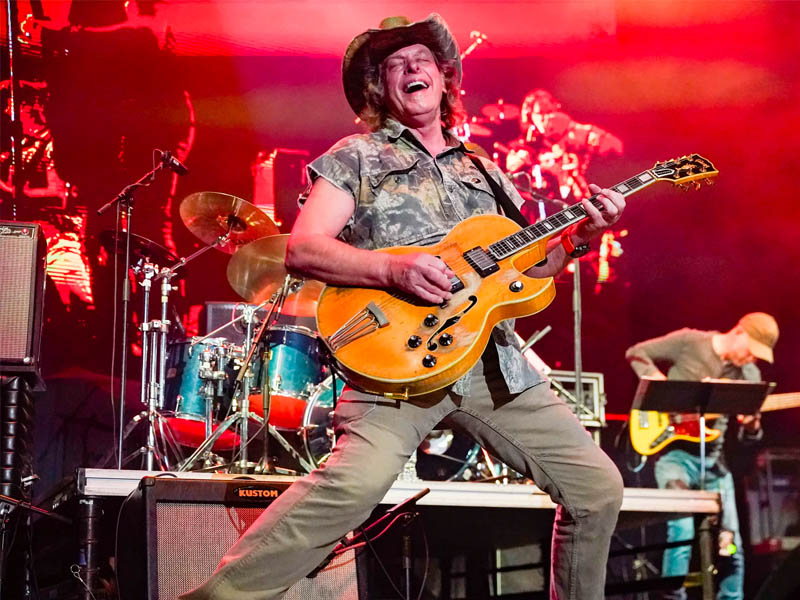 Critically-acclaimed singer-songwriter Ted Nugent rose to prominence in the '60s. He joined the psychedelic band Amboy Dukes and released the hit single "Journey to the Center of the Mind" in 1968. In 1975, Nugent pursued his solo career and released his self-titled debut album. The album immediately broke into the Billboard 200 chart, peaking at number 28. Meanwhile, the highly-acclaimed record also charted in the U.K. and Australia. The debut album spawned one of Nugent's most popular singles, "Stranglehold," demonstrating his bluesy guitar riffing and wild guitar duets. The eight-minute-long track became the official entrance theme of the Chicago Blackhawks. Although the single didn't enter the charts upon its release, it remains Nugent's most streamed song, clocking in at almost two hundred million listens.
In 1977, Nugent released his third and most well-received album, Cat Scratch Fever. The album spawned the massive title track, "Cat Scratch Fever, which peaked at number. 30 on the Billboard Hot 100. The single showcased Nugent's signature harmonic riffs, which created a lasting legacy. The song was covered by iconic metal band Pantera, legendary rock band Motorhead, and punk rock outfit The Replacements. Thanks to the title track's success, the album sold over three million copies in the U.S. and was certified triple platinum in 2001.
Nugent welcomed the next decade with a bang. His 1980 album, Scream Dream, became the highest-charting effort of his career. The album peaked at number 13 on the Billboard 200 and spawned several incredible tracks, including "Scream Dream" and "Wang Tango." The critically-acclaimed album was the last effort Nugent released with his longtime drummer and co-producer Cliff Davies. Music reviewers called the album an incredible "aural mayhem" only Nugent can create. The album later sold over 500,000 copies in the U.S., earning Nugent another gold certification.
Last year, Nugent released his 16th and latest album, Detroit Muscle. Fans can look forward to Nugent's new music from the recently released work and his massive hits from earlier efforts. If you're a Ted Nugent fan, you should know this may be the last time you see the celebrated rock artist on tour. In a statement, the 74-year-old performer says farewell but also assures fans that he will still be around. "My amazing American Dream sure as hell ain't over, and no way can I even see it from here! However, my fiery vaportrail of flamethrowing all-American R&B and rock 'n roll has been so much damn fun I can hardly believe it. I will write The Book, but for now, it's Adios Mofo '23! Thank you, thank you, thank you all!"
Grab tickets now to see Ted Nugent light up the Freedom Hill Amphitheatre on Friday, 11th August 2023!