Michigan Lottery Amphitheatre at Freedom Hill | Sterling Heights, Michigan
Ted Nugent is traveling across North America and performing for his fans this 2022! The singer-songwriter and guitar god is taking Detroit Muscle Tour to 28 cities in the U.S., including Freedom Hill Amphitheatre, on Saturday 13th August 2022! The hard rock legend has sold over 40 million records throughout his 50-year career. Responsible for hits, such as the "Cat Scratch Fever," "Free for All," and Stranglehold," Ted Nugent has performed over 6750 times. Nugent is already in his '70s, but he is not hanging up his Gibson guitar anytime soon. This spring, Nugent will be releasing his 16th studio album, Detroit Muscle, with its lead single "Come and Take It." Grab your tickets now to see the American guitar hero, Ted Nugent, perform live at the Freedom Hill Amphitheatre!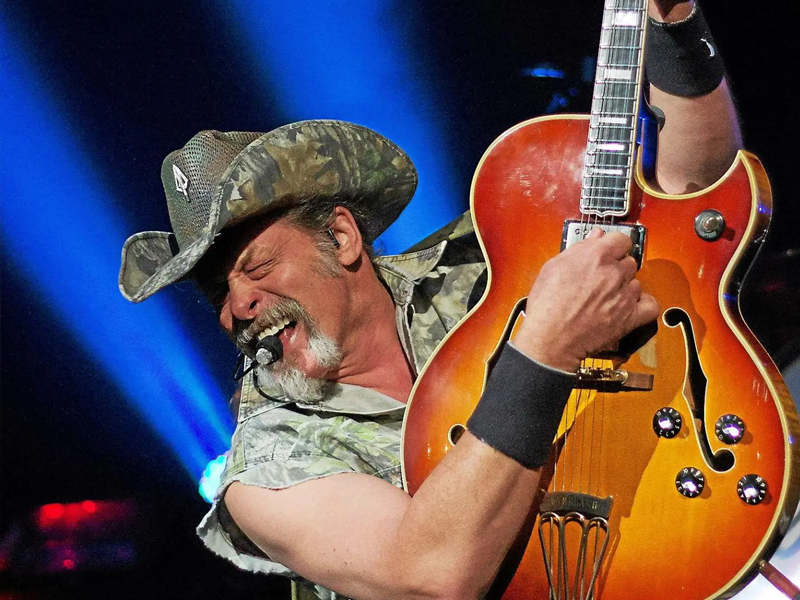 Ted Nugent was the brains behind '60s hard rock band, The Amboy Dukes. The psychedelic rock band was famous for their single, "Journey to the Center of the Mind," from the album with the same name. The single peaked at number 16 on the US Billboard chart. Although the band was active for more than a decade, Nugent was the only permanent member – thus, the majority of the band's songs were written by him. The band was able to release seven studio albums.
In 1975, Nugent decided to embark on a solo career and successfully released his self-titled debut album. The record performed well in the US charts and received a two-time platinum certifications from the Recording Industry Association of America (RIAA). He would then later release Free for All and Cat Scratch Fever in the succeeding two years. Both records also received platinum certifications. His single "Cat Scratch Fever" became a phenomenal success. It is through these critically-acclaimed three albums that Nugent became known as a guitar hero.
This coming April, Nugent is releasing his 16th album, Detroit Muscle. He recently dropped the record's first single, "Come and Take It," a patriotic anthem, in which lyrics revolved around first and second amendment rights.