Michigan Lottery Amphitheatre at Freedom Hill | Sterling Heights, Michigan
Rock fans, are you ready for the Revolution 3 tour?? This triple-headlining bill, starring none other than The Cult, Stone Temple Pilots and Bush, stopping at all the major cities in the US and coming live at the Freedom Hill Amphitheatre on Tuesday 24th July 2018!! Don't miss out – get your tickets NOW while you still have the chance!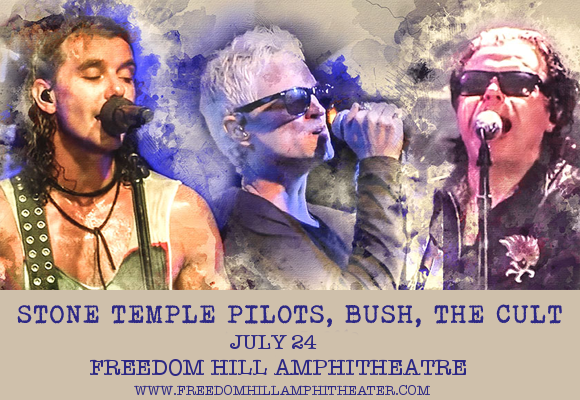 The Stone Temple Pilots are touring in support of their new self-titled album, their first with new lead singer Jeff Gutt. The new album honours the band's legacy while pointing towards a new musical direction, with some power pop in amongst the hard rock. Bush are continuing to tour with their latest full-length release, "Black And White Rainbows," their seventh studio album so far. The Cult's last release was in 2016 with the album "Hidden City". "I can say new Cult music will be forthcoming, but these days we don't rush it as there's no point," said guitarist Billy Duffy, when asked about whether fans can expect new material from The Cult any time soon. "Quality is key. We are past the point of having to release stuff so if we feel it's good enough, then we will release it in some shape or another."
Get ready to hear all the new material in addition to all the hits you know and love – what are you waiting for?? Get your tickets to see The Cult, the Stone Temple Pilots and Bush today, before they disappear!!