Michigan Lottery Amphitheatre at Freedom Hill | Sterling Heights, Michigan
Grammy award winners. Rock and Roll Hall of Famers. Legendary hitmakers. Take this opportunity to experience the golden age of pop, soul, and RnB music in this lifetime. Yesteryear's icons, The Temptations and The Righteous Brothers, have joined forces and are inviting everyone to a nostalgic musical journey. This double-headliner show will take place at the Freedom Hill Amphitheatre on Saturday 27th July 2019. This show attracts not only their devoted fans, but it has extended on to next and new generation of families, friends, and loved ones. Lock-in your tickets now before the 'sold-out' sign comes up. Book your tickets now!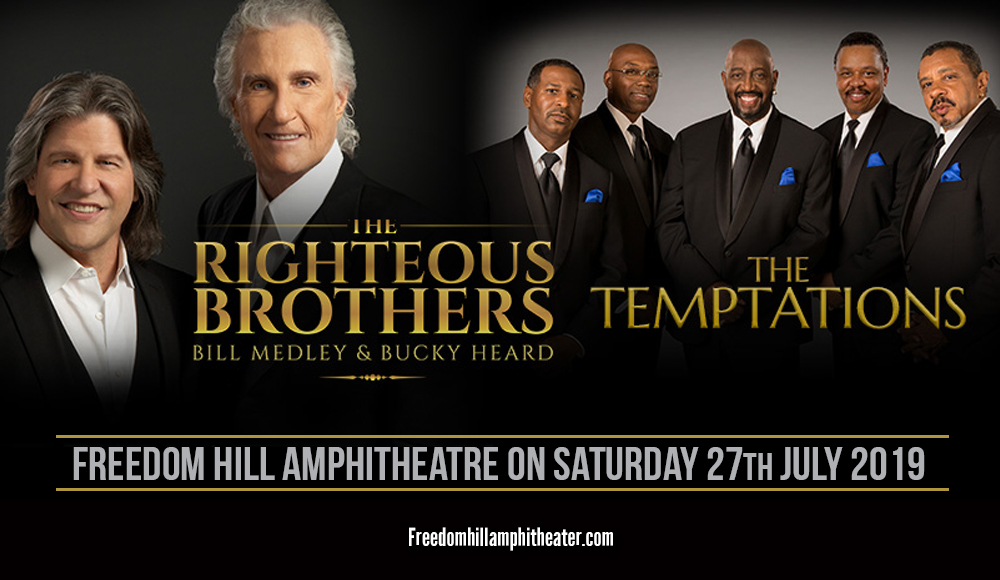 Their lush and soaring vocal harmonies plus cool and synchronized dance moves are just the perfect elements of an enchanting evening. Spending your weekend with this kind of entertainment is a taste of heaven here on earth. Two of music's brightest stars of the so-called 'yesteryears', are still shining with their everlasting brilliance. The Temptations and The Righteous Brothers are still at the top of their game, joining forces for an evening of bringing their timeless classic hits on the live stage.
Their songs sing about having 'sunshine on a cloudy day'. The Temptations are the total entertainment package. Their ultra-catchy ditties and chipper choreography spell out 'good vibes' in big, bold letters. With over fifty years in the biz, their career is practically weaved into the rich tapestry of American pop-culture. They were one of the indomitable forces that drove the Motown sound machine to the fore. Since Smokey Robinson wrote and produced for them the single "The Way You Do the Things You Do", they've churned out an avalanche of hits "My Girl", "Papa Was a Rollin' Stone", "Just My Imagination", "Get Ready", "It's Growing," "Since I Lost My Baby", "Ain't Too Proud to Beg," "Beauty Is Only Skin Deep," "I Wish It Would Rain," "I Can't Get Next to You," and many more. Otis Williams is now only the original surviving member. After the various line-up changes and replacements, Williams says that "Great singing will always prevail."
The current lineup consists of Otis Williams, Ron Tyson, Terry Weeks, Larry Braggs, Willie Greene Jr. "The more we change," says veteran Ron Tyson, "the more we stay true to ourselves. We're about singing straight-up soul. It's a style that will live on forever."
The Righteous Brothers is one of the best-loved duos of all-time. They've had a long-spanning career run, laden with the most unforgettable hits such as "You've Lost That Lovin' Feelin'" (the most played song in radio history), "Soul & Inspiration," "Unchained Melody," "Rock and Roll Heaven," "You'll Never Walk Alone", "He Ain't Heavy He's My Brother", and so much more; until the untimely demise of Bobby Hatfield in 2003. Bill Medley continued performing, and actually spawned a number of monster hits such as "Time of My Life", the main theme from the movie soundtrack of "Dirty Dancing".
But fans clamored to keep The Righteous Brothers spirit alive. Medley picked Bucky Heard to take over and fill-in the shoes of Hatfield. "No one could ever take Bobby's place, but when I caught Bucky Heard's show it all came together," Medley said in a news release. "I found the right guy to help me recreate the magic."
Not all throwback shows are made of these… experience this one-of-kind musical extravaganza!