Michigan Lottery Amphitheatre at Freedom Hill | Sterling Heights, Michigan
EVENT CANCELLED. Please contact your ticket point of purchase to claim a refund on your tickets.
'If all it is is eight letters, why is it so hard to say? These boys may have struggled to find their way to say what those '8 letters mean, but fans around the globe have found themselves screaming their hearts out, in love with the world's one and only Why Don't We. As the boys just recently dropped their newest single "Don't Wake Me Up" with Jonas Blue, singing "don't wake me up in the middle of the night 'cause I finally found you.", the love can finally be found as they prepare to embark on The Good Times Only Tour, in support of their latest album "The Good Times and the Bad Ones". Fall deeper in love as the band sings their biggest anthems and crowd favorites like "Fallin' (Adrenaline)", "What Am I", "8 Letters", and new songs off of their new album live on stage at Freedom Hill Amphitheatre on Friday, June 24, 2022. So, book your tickets now!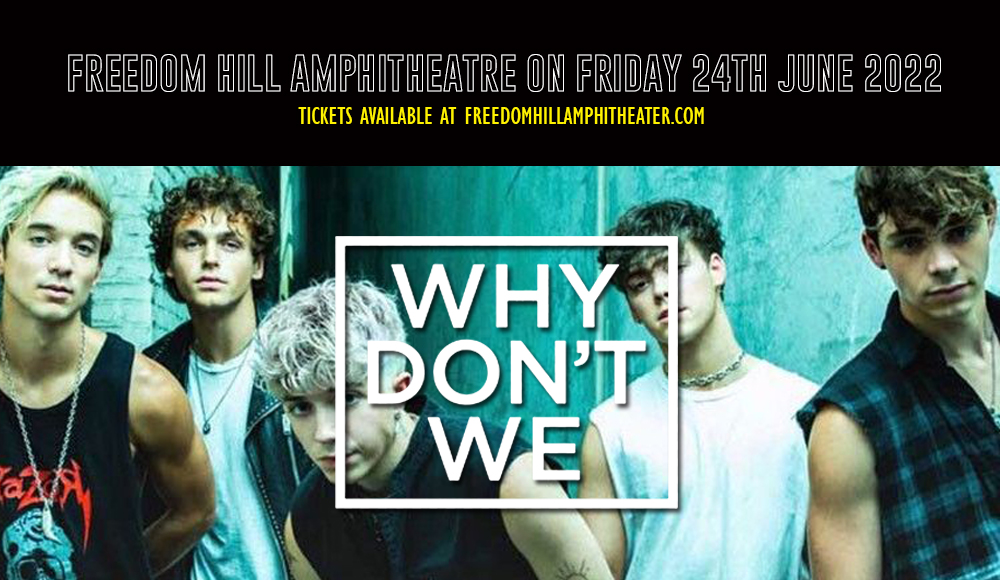 Why Don't We was formed in 2016 by band members Jack Avery, Corbyn Besson, Zach Herron, Jonah Marais, and Daniel Seavey in Los Angeles, California. After releasing "Taking You" from their debut EP "Only the Beginning", the band went on tours and dropped a few more EPs before their big album debut.
2018 marked the band's global breakout success with the release of their debut studio album "8 Letters". The record featured hit singles "Trust Fund Baby", "Hooked", and the RIAA certified-platinum "8 Letters". From singing 'if all it is is eight letters, why is it so hard to say?', these eight letters were shouted back to the band as they amassed a massive new following across the world.
With the heartthrobs getting fans hooked for more music and content by the boys, Why Don't We started off 2019 with a set of new singles, "Big Plans" being the first. The boys definitely set up big plans for the years to come, kicking it off with a slew of new singles in 2019 including "Unbelievable", "Cold in LA", and "I Don't Belong in This Club" with Macklemore. They wrapped up the year with "Chills" before taking a nine-month pause.
Why Don't We re-emerged in September of 2020 with a new single "Fallin' (Adrenaline)" – their first single to make it to the Hot 100. Then they dropped "Lotus Inn" and "Slow Down" before finally releasing their much-awaited second album "The Good Times and the Bad Ones" in January of 2021. The album is a shared effort by the boys themselves, with some guest productions by Travis Barker, Skrillex, and Timbaland. "The Good Times and the Bad Ones" hit #3 on the Billboard 200.
In this new era, Why Don't We is set to only have good times as they embark on The Good Times Only Tour, finally getting to express those '8 letters to their fans, and perform their best songs and new anthems live on stage. So, grab the chance to let Why Don't We hear your '8 letters of love by booking those tickets now!