Michigan Lottery Amphitheatre at Freedom Hill | Sterling Heights, Michigan
He's from the outlaw, while she's from the contemporary bluegrass sub-genre of country music. Willie Nelson and Family & Alison Krauss may come from the opposite poles, but the common thread that binds together is rooted in their love for country music. That is what made this double-headliner tour possible. Two of country music's most enduring and heralded country music veterans, Willie Nelson and Alison Krauss are on the road for a 13-date concert trek. Here's your chance to catch one of them. Just by the neck of the woods, this amazing back-to-back concert is happening on Tuesday 25th June 2019 at Freedom Hill Amphitheatre. Save the date and save yourself from the hassle of literally queuing for tickets. You don't have to leave your seat. With a few easy clicks on this website, starting with the 'buy tickets' button, you can easily book yourself and for the whole gang of country music lovers even, tickets and reserve your seats for the show. Willie Nelson and Family & Alison Krauss in one show are truly worth it. Book your tickets now!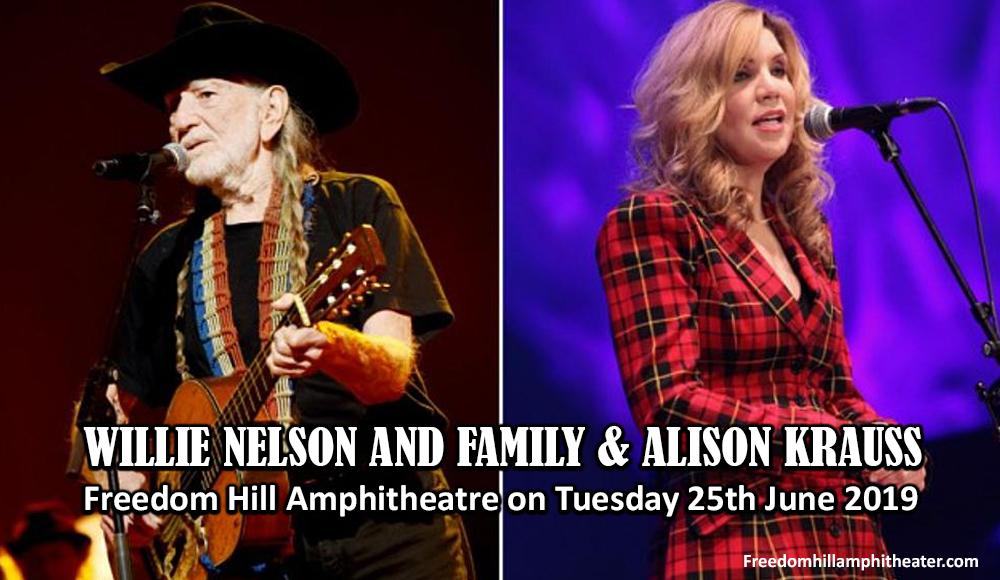 Willie Nelson is a country music veteran, a legend, and one of the most revered figures in the music industry. He spent most of his career playing outlaw country music and upholds environmental causes. Yet he first found his voice as a country singer-songwriter during the 1950s. Though it took him quite some time to get his foot on the doors of commercial music success, his superb songwriting skills shone through as he penned songs for Roy Orbison, Patsy Cline, and Billy Walker. As the 60s rolled on, Nelson was finally heard and found his bearings on the mainstream market with the singles "Touch Me" and "Willingly." In the 70s, his critically acclaimed "Red Headed Stranger" album was pivotal to the creation of the outlaw country music movement. The 80s brought him signficant milestones as he bagged three Grammy awards for Song of the Year, Best Country Song and Best Male Country Vocal Performance. Nelson is in his 80s, that is pertaining to his age, is still at the top of his game and is considered one of the figurheads of county music.
Along with Willie Nelson, another country music veteran of sorts that will be sharing the spotlight is the multi-talented Alison Krauss. At the tender age of 14 she was already a promising star. Indeed, that star shone brighter and brighter over the years, and has held the banner up for bluegrass to reach into mainstream music consciousness. With her country-pop crossover hits such as "The Lucky One", "Restless", "Missing You", "When You Say Nothing At All", "Baby Now That I've Found You", Alison Krauss became a household name among mainstream audience. Yet she is firmly rooted on bluegrass and has kept this sub-genre thriving. As the bearer of 27 Grammy Awards to date, Alison Krauss is one of the dominant forces that has kept the spirit of country music in the hearts of country music lovers around the world.
Mark this date, it will be one of country music's finest hours. Must-see! Don't miss it!