Michigan Lottery Amphitheatre at Freedom Hill | Sterling Heights, Michigan
The 'Gods of Rap' are touring the earth! Leading the pack is revolutionary rap and hip-hop super group Wu-Tang Clan, who are forging ahead and scaling hew heights as they celebrate their seminal Enter the Wu-Tang (36 Chambers) debut album released 25 years ago. RZA, GZA, Method Man, Raekwon, Ghostface Killah, Inspectah Deck, U-God, Masta Killa, and Cappadonna have all come together to go on a massive nationwide and even a worldwide tour circuit. Indeed, fans who have stuck with them through and through, and a new generation of hip hop fans who have just unearthed Wu-Tang Clan's astonishing body of work that defined the hip hop sound of today, are cashing in on this golden opportunity to see their hip hop heroes crank-up the live stage once again. It's going to be d-day on Friday 31st May 2019, at the Freedom Hill Amphitheatre. Prepare for fans going on full force as they hunt down for those in-demand tickets to the show. Grab yours now before it's too late!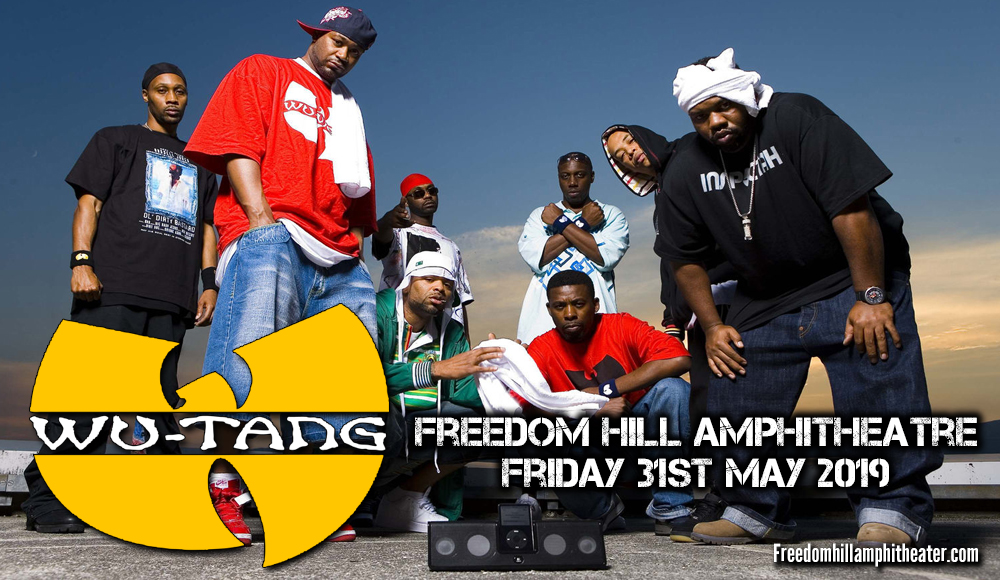 "Enter the Wu-Tang (36 Chambers)" ushered in a revolutionary sound of hip-hop music, back when it was released in 1992 by a GZA and Ol' Dirty Bastard, soon expanding to include Method Man, Raekwon, Ghostface Killah, U-God, Masta Killa, and Inspectah Deck, collectively known as Wu-Tang Clan. They gave hip-hop a bad name as they fearlessly dished out hard-hitting beats, dark and grim soundscapes, gritty vocals, yet profound and intelligent wordplay. Fans worshipped them and critics lauded them. Wu-Tang Clan established a hip-hop enterprise that is now regarded as an artform, a lifestyle, and has become the blueprint of a burgeoning hip-hop movement that defined what hip-hop is today.
Wu-Tang Clan members come and go and pursued solo ventures and have become stars in their own right. In 1997, members have made their way back into the clan, and released their second album, the double-disc "Wu-Tang Forever". And yes, fans were solid as ever. The album shot up to the number one spot and sold over 600,000 copies in its first week. From their Wu-Tang Clan turned into a prestigious franchise which expanded their roster to include new artists and young protégés. They were also recognized in award giving bodies and bagged the Best Single and Best New Artist of the Year at the Source Awards. In 1998, they were one of the nominees for Favorite Rap/Hip-Hop Artist and Favorite Rap/Hip-Hop Band at the American Music Awards. But more importantly, Wu-Tang Clan is highly marked for their breakthroughs, contribution, and influence in the world of hip-hop music.
Wu-Tang Clan 25 years strong! The gods of rap have just begun their walk to immortality. Are you in or out?